Vacation Homes in Orient Beach
On Orient bay Beach, ocean front, we offer you 3 perfectly equipped and beautifully decorated vacation homes so that you feel at home from your arrival. Life is simple here; you can do everything by walking!
The beach is 40 meters from your home and it will take you only 3 minutes to reach Village Square with its restaurants, small supermarket, French bakery and boutiques.
Here you can relax, walk about, dream, have fun, buy some chocolate croissants and a baguette for your breakfast, discover French gastronomy and taste good wines and delicious home-made « Rhum arrangés », make new friends, swim, sunbathe, read, dance, sing, walk barefoot on the beach hand in hand with your Lover.
Here you will feel free, Here you will feel in love….
"Cote Chic is beautiful!!!
The owners Moune and Dominique are wonderful hosts. The accommodation couldn't be more comfortable. Enjoying the deck and Grill downstairs for dinner to relaxing on the upper patio with coffee looking over the beach and ocean. The full size kitchen and refrigerator were perfect. The bedrooms and shower rooms were fantastic. Location is perfect for walking to the beach and dining.
Security is top notch. So many qualities the list goes on and on. We will be returning every chance we get."
Abraham
A magical island planted like a picture book between the Atlantic Ocean and the Caribbean Sea, St Martin has something for everyone.
Whether you are here for the swimming, sunbathing, sports or simply to relax, there is room for everyone to find their own little corner of paradise.
The waters off the beaches of St Martin are clear and warm, perfect for exploring the local marine life with a snorkel and mask.
St Martin features some of the finest seascapes. From unspoiled quiet shores to lively hub of activity, every single one of St Martin's beaches is fantastically unique and reflects the rich diversity of the island itself
St Martin 37 beaches are such pearls that they rank among the finest of the Caribbean.
Watersports are by no means the only activities available on the island but they are far by the most numerous. With surfing, windsurfing, wakeboarding, jet skiing, waterskiing, kayaking, sailing and deep sea fishing on the menu, anyone looking to try their hand at extreme sport will find everything they are looking for in St Martin.
The weather, water and air temperature – averaging between 77° and 84°- and dependable trade winds provide ideal condition for all types of watersports and sunbathing all year round
Also, St Martin has established a world reputation for its fusion cuisine, and it shows no sign to stopping A subtle blend of flavors combinations innovation and tradition, one of the island's gems.
The variety of food available on the island is vast, with fish, lobster and shellfish, succulent meats and traditional barbecues on the menu, all served up with local spices, Creoles sauces or tropical fruits
And to discover the French cuisine, choose a restaurant in Grand-Case or in Orient Beach village…
Surrounded by traditional decor and authentic flavors, aromas and even the accents of the waiting staff, dining out in St Martin can fee like taking a quick trip to a foreign country thousands miles away.
Come and discover the myriad of flavor of St Martin…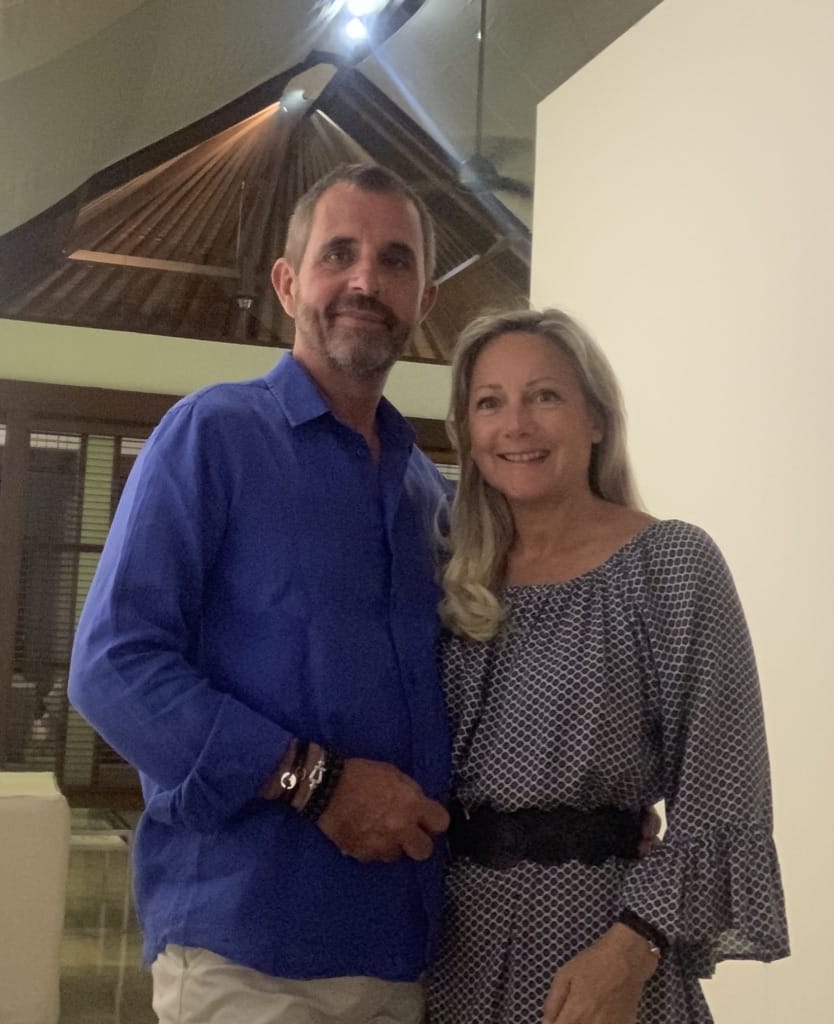 We are Moune and Dominique, a French couple of about fifty years old, having lived in France a whole part of our life.
We discovered Saint Martin in 1998 and immediately fell in love with this small French island at the end of the world.
Our 3 sons are in their thirties, they live in Paris and in the South of France.
A few years ago we decided to change our life and since then we have been lucky enough to live in Orient Bay, the most charming and lively village on the French part of Saint Martin.
We know that vacations are particularly important moments in life that's why we offer vacation homes in which you will immediately feel good, you will feel at home as soon as you enter the door.
We will be happy to take care of you throughout your stay so that you'll have wonderful memories of your vacations!
You are planning your trip and need more informations about our vacation homes, availability or anything else, please contact us!